Even though the Breeze II is issued more than one year and take up a large of electric skateboard market share. I do not think most people understand it better. Since I still receive a lot of messages to ask the price or any other info of Breeze II. I wanna introduce my company again before I started my topic.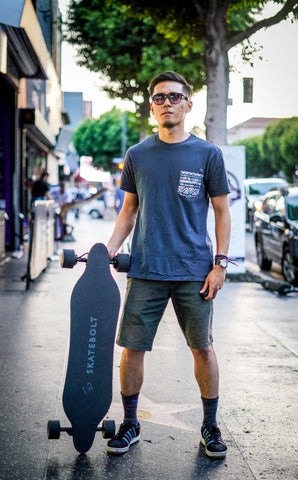 I employed by Alouette Intelligent Technology Co Ltd and worked here more than one year. Skatebolt is one of the brands owned by this company. Alouette, which is established in 2016, is a high-tech company combining outstanding manufacture, professional research and top design on both hardware and software. We commit our full efforts to produce high-class and intellectualized vehicle. Our E-board, E-scooters and other outdoor sport & recreation products will bring customers entertainment, x-sport experience and convenient transportation. So, my company is focus on research and produce electric transportation and focus on that more than four years. We wanna provide customers excellent experience with the idea of leading technology, creative design and international cooperation.
That is the company I worked for and be happy in this large family. And that is why I am confident with our products. So, let me share one of our best performance products of electric skateboard, Breeze II for your guys. Maybe you have rode it more than one year, maybe you wanna purchase it in the foreseeable future, maybe I did not hear that before. Whatsoever, that is our star product with beautiful design and appearance. Let me share some of important specs firstly.
| | |
| --- | --- |
| Range | 15 miles |
| Max Speed | 28 MPH |
| Max Grad | 30% |
| Deck | Bamboo and two layers of glass fiber  |
| Motor | Dual 450W |
| Size | 39 x 9 x 5 Inch |
| AT Wheel | Available |
| Waterproof | IP67 |
It is obvious to figure out the important specs of Breeze II based on the chart. I will give you a visualized method to figure out those concepts if you feel strange about that. To explain how excellent our product is, I can share a comparable photo to display as below.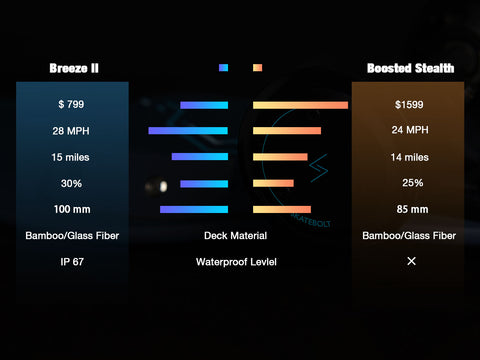 Compared to Boosted Stealth, one of the famous brands located in the U.S. All of specs of Breeze II are better than Boosted besides price. So, smart people should know how to choose a better electric skateboard. As a $799 product, it is not cheap. However, all of its super specs are deserved it. So, let me share attractive specs of Breeze II's specifically.
Number one, extremely fast & long range - Breeze II electric skateboard comes with 4 speed modes. The top speed is up to 28 MPH. With the 6000mAh Samsung 30Q lithium battery, it can travel up to 15 miles in medium mode with a full charge.
Number two, replaceable Motors - With dual 450 W motors, it is strong enough to climb a 30% steep hill. The board comes with 100mm wheels installed and an extra set of 90mm for replacement. Regenerating brake available.
Number three, solid construction - Breeze II' s deck is made of bamboo and two layers of glass fiber which is three times more expensive than Canada maple deck. The combination makes a balance between flexibility and strength. The shape of the deck is designed for more comfort and stability.
Number four, customized brakes - Breeze II has 4 brake settings from soft to strong. You can adjust the setting directly on the remote control during your ride. It is equipped with 2 built in tail lights which will flash when you are braking.
Number five, cruise control & slide start - By pressing the LED button on the remote during cruising, you can cruise at the same speed you currently at. This function can make long distance trips much easier. The electric longboard also can be turned on by sliding. 
What's more, some of our fans still wanna know and curious about what is the difference between Tornado II and Breeze. The price gap is more than $100 between them. So, I am glad to explain that over here. Actually, the most important difference is appearance. Customers can recognize them obviously even if their color is similar. That is because the appearance is different. The deck of Tornado is tabular and lenient which let us feel safe. The deck of Breeze is slender and looks like a model. And then, the raw materials of those decks are different. Breeze II's deck is made by bamboo and two layers of glass fiber which is more steady and more protective. In addition, the power of those is also different since the motor is made from different manufacture. Breeze II's motor power is 450W which is better than Tornado. That is why Breeze II has higher top speed. Furthermore, Breeze II has strong waterproof rank which is able to ride in rainy but keep safety. Tornado cannot be. Last but not the least, Breeze II has the AT wheels option which is the most careful topic by customers. I was asked a lot of times in the past half year. And yes, you can visit our website and purchase AT wheel for your board. As a matter of fact, most board is not encouraged to ride in Irregular road surface because it is terrible for your wheel. But AT wheels solve your problem. Breeze II is able to ride in different road based on AT wheels without damage.
With the development of science and technology, most and most things becoming to be electronic. Skateboard is an obvious example. Now, there are one more 100,000 people own the electric skateboard who located in nine main different countries. And you can find out a lot of electric skateboard users groups on Facebook, Google, YouTube and so on. Electric skateboard is being a trend and more and more people will join in this group. Please follow our Facebook, Instagram if you are interested in our board, they will update our company and users feeds frequently. And also we have a Skatebolt board users group located on Facebook. All Skatebolt users can share your experience or problems you suffered. All customers are kind to talk with, do not hesitate to join in it if you are one of the Skatebolt users. And please visit our website directly if you wanna purchase our board, we will update new products over there. Contact us if you have any questions.
Address: 1431 Potrero Ave, Unit E, South El Monte, CA 91733
Email: sales@skatebolt.com