Mini Electric Skateboard: Self-Balanced with Gravity Sensor
Overview
Skatebolt is an electric skateboard company established in 2016. Since the very beginning, our main goal is to offer electric skateboards that are safe, convenient, and affordable.
After developing several popular electric longboards including Skatebolt Breeze II, Tornado II, Tornado Pro A, we made an effort to explore a new product for kids and teens. And then it comes - Skatebolt Brisk.
Brisk is a 24" mini electric skateboard.
It is made to set both hands free because it doesn't require remote control.
Speed control and balancing is realized by it's built-in gravity sensor.
It's gonna be a fun experience to ride it for kids, teen or even adult beginners.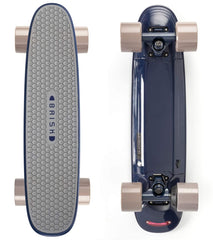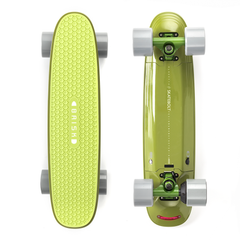 Highlighted Features
Self Balanced - The gravity sensor on the board can sense the weight changes on the front and rear axles, and then provide an accurate driving force in near real-time.
Speed Control - Also thanks to the gravity sensor, the rider can easily control the speed by leaning forward or backward. That's how it sets both hands free.
Lightweight - As an electric skateboard for kids, the gross weight of Brisk is only 8lbs/4.4kg, which won't be a pain for anyone to carry.
Range - The max range of Brisk is about 7 miles (10km) with its 150W motor. It covers a distance from the Empire State Building to Central Park.
Speed - The max speed of Brisk is around 11mph (18km/h) which is fast enough and safe for kids or beginners to ride.
Max Load - With its lightweight body, Brisk supports loading up to 110lbs/80kg. That means most kids can be loaded, even adults. 
Climbing - Brisk is able to climb a 10° slope, which is enough for kids to cruise around the neighborhood or commute between home and school in a short distance.
Anti Slip - The honeycomb-shaped pad on the skateboard is anti-slip to make sure it's safer for kids to ride.
Tail Lights - There are two built-in tail lights that flash when the board is on the brake.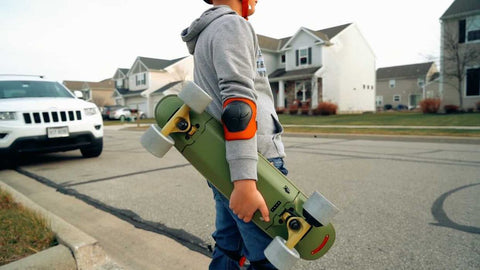 How to Ride
Brisk makes full use of high-tech elements. It is controlled by your 3D Posture rather than a wireless remote.
Lean forward and keep the gravity center on the front foot and move forward at a constant speed.
Lean backward and keep the gravity center on the back foot to slow down and brake.
Overall, it is a great exercise toy for kids to learn how to keep balance and enjoy a lot of fun!
 For more detailed reviews, click here: Skatebolt Brisk Review