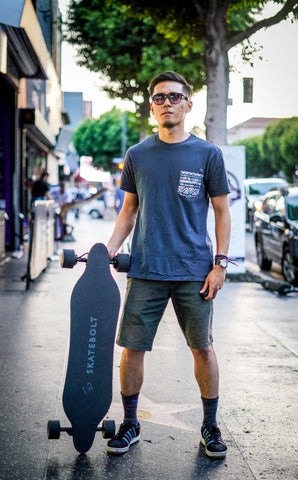 As an employee of Skatebolt and a Breeze II rider, I have received many inquires about the performance of Breeze II.
It's been about two years since the Skatebolt Breeze II was officially released. It has become one of our most popular electric skateboards and taken up a large market share.
For beginners or experienced riders, when choosing an electric skateboard, it's usually about the performance and prices.
To help our customers choose among Skatebolt electric skateboards, we have already made a comparison table on our website. Just click "Compare" and you will see. 
To have a better understanding of our best performance skateboard - Breeze II, I have highlighted its main features below: 
| | |
| --- | --- |
| Range | 15 miles |
| Max Speed | 28 MPH (Pro Mode Up to 30 MPH) |
| Climbing | 30° Slope |
| Deck | Bamboo and two layers of glass fiber  |
| Motor | Dual 450W (900W in all) |
| Size | 39 x 9 x 5 Inch |
| AT Wheel | Available |
| Waterproof | IP67 |
We have also compared Breeze II with Boosted Stealth before. The chart below gives you a better idea about why Breeze II is a higher value for the money.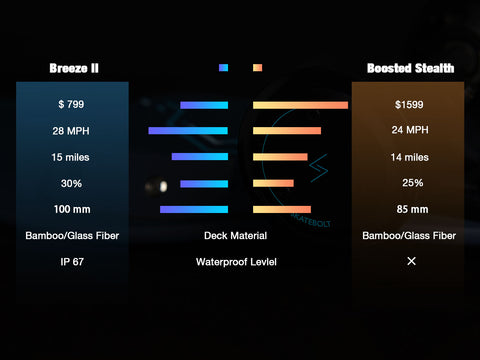 Compared to Boosted Stealth, one of the famous brands located in the US, Breeze II is much more affordable with overall better performance.
Skatebolt Breeze II was released at $799 when it first came out. After selling for a while, we were able to make it at a much better price: $699. It's still not a cheap price, but Breeze II has lived up to its value.
Our fastest board with long range - Breeze II is still our fastest electric skateboard before our next generation comes up. It comes with 4 speed modes. The top speed is up to 28 MPH. When you switch to Pro mode, you may accelerate up to 30 MPH or even faster. With the 6000mAh Samsung 30Q lithium battery, it can travel up to 15 miles in medium mode with a full charge.
Replaceable Motor Sleeves - With dual 450W motors, it is strong enough to climb a 30° steep slope. The board comes with 100mm wheels installed and an extra set of 90mm wheel sleeves for replacement. Regenerating brake available.
Solid Construction - The deck of Breeze II is made of bamboo and two layers of glass fiber, which is three times more expensive than Canadian maple deck. The combination makes a balance between flexibility and strength. The shape of the deck is designed for more comfort and stability.
Customized Brakes - Breeze II has 4 brake settings from soft to strong. You can adjust the setting directly on the remote control during your ride. It is equipped with 2 built in tail lights which will flash when you are braking.
Cruise Control & Slide Start - By pressing the LED button on the remote during cruising, you can cruise at the same speed you are currently at. This function can make long-distance trips much easier. The electric longboard also can be turned on by sliding. 
The differences between Breeze II & Tornado Series
What makes the price gap between Breeze II and the Tornado series is also what our customers usually ask.
First of all, the appearance. We hired a new designer to improve our electric skateboards. The difference between Breeze II and Tornado is recognizable. The deck of Breeze II has been made to be slender more flexible.
Secondly, the raw materials. The deck of Breeze II is made of bamboo and two layers of glass fiber. It's more expensive than maple wood, more steady, and more protective. 
Thirdly, the power. Breeze II comes with dual 450W motors. It's 900W in total and much more powerful than the Tornados. A more powerful motor means a higher speed.
Furthermore, Breeze II has a waterproof feature that allows you to ride it on a slightly rainy day, while Tornado can't do.
Last but not the least, Breeze II can be equipped with AT wheels option which is also a focused topic among our customers. With AT wheels, Breeze II is able to run on all terrains, which expands the area you can cruise.
As electric skateboard is becoming a lifestyle for more and more people, we are still focused on improving our products and developing new items to satisfy our customers.
I also enjoy riding our boards and exchanging ideas with Skatebolt fans. I will keep sharing information with everyone. ;-)